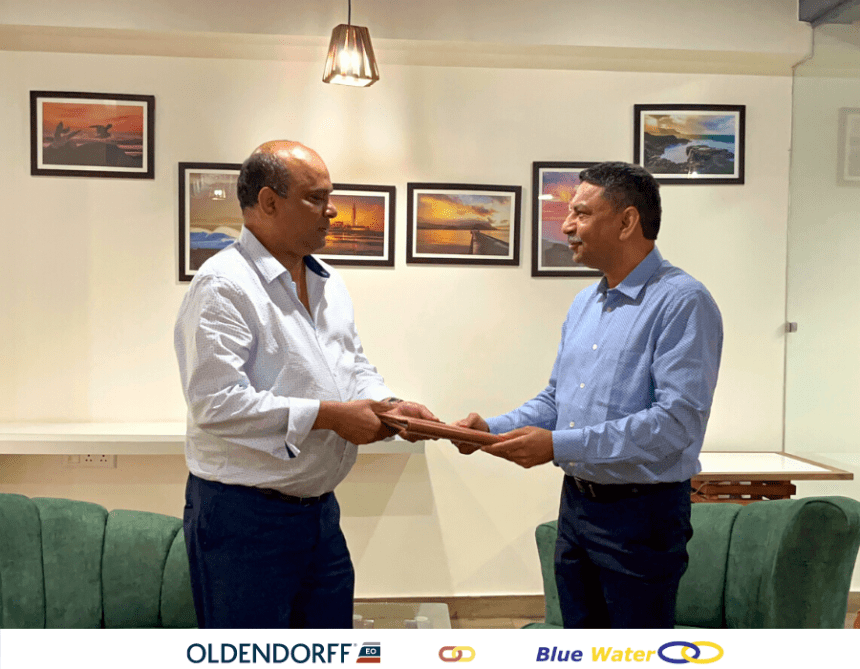 Oldendorff Inks a contract with Blue Water for Voyage Optimisation and Fleet Decarbonization by implementing BOSS after a Year-long trial.
---
The largest German bulk carrier company, Oldendorff Carriers, and India-headquartered maritime technology company, Blue Water, announced the official signing of their contract to implement Blue Water's "BOSS Voyage Optimisation Suite" for Oldendorff's Cape & Baby Cape fleet of owned and time chartered vessels. The BOSS Suite will propel Oldendorff's continuous efforts towards a greener maritime trade by reducing emissions through intelligent voyage optimization, weather routing, vessel performance analysis and efficient fleet management.
Capt. Dexter Jeremiah, Managing Director Operations at Oldendorff, said: "After one year of successful trials, we chose the BOSS Suite for our Cape & Baby Cape Fleet since it met our needs for optimising voyage operations, whilst enabling us to see real-time CII analytics for the vessels in one platform. The level of customization and development of advance voyage monitoring tools in the BOSS ecosystem with a quick turnaround has been second to none."
Adding to the announcement, Capt. Kumaresh Gupta, Managing Director at BlueWater, said: "We are elated to have Oldendorff's Cape & Baby Cape fleet in BOSS. Throughout the trials, we were presented with challenges to develop certain customized solutions for operational excellence and performance analysis, and the BOSS team turned them into opportunities to further showcase the platform's customizability, scalability, and an eagerness to make significant changes to suit Oldendorff's needs."
---
About Oldendorff Carriers:
Since its establishment in 1921, Oldendorff Carriers has grown into one of the world's leading dry bulk owners and operators, operating about 700 vessels around the world.
About Blue Water: The company provides a host of Software as Service for voyage optimisation including its pioneer cargo heating management for tankers. Blue Water employs 100+ personnel in its Dehradun office and currently optimises over 700 vessels of various type for maritime industry leaders, and provides quantifiable savings through a verifiable benchmarking system.